Associate Chiropractic Physician
Associate Chiropractic Physician wanted in growing family practice in Yarmouth, ME (just outside the vibrant city of Portland.)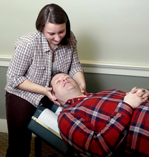 Pinetree Family Chiropractic is a family practice with a focus on pregnancy and pediatric care. We have a commitment to maintaining strong and trusting relationships with other local providers allowing for solid referral streams and lots of mutual community support. We also have a strong commitment to social justice, inclusivity and joyfully serve all our diverse families. We never stop learning and growing and are committed to providing the best, evidenced based care possible.
We are looking for a candidate with strong adjusting skills, internal motivation to work hard and grow, a passion for building honest relationships, and a desire to be a part of the greater community. No health screenings or heavy marketing required, but organic involvement in the community is critical, as is a commitment to helping us maintain a safe space where all human beings are welcomed, respected, and supported, and diversity is celebrated.
Come work in our beautiful, relaxed, waterfront location with other kind, happy people who value work-life balance. Part time or Full time potential with generous and motivating compensation package.
Experience in pregnancy, pediatrics or SOT a plus.
Interested? Email resume and cover letter to info@pinetreefamily.com