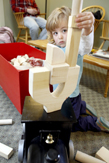 Welcome to Pinetree Family Chiropractic, a family practice located at Lower Falls Landing in Yarmouth, Maine, right on the beautiful Royal River. 
Since 2011, Pinetree Family Chiropractic has provided experienced, specialized, and loving care to families, from fertility to postpartum and beyond. While we specialize in prenatal, postpartum, and pediatric care, we love treating the whole family and enjoy building relationships that can last a lifetime.
We have a strong commitment to maintaining a safe space where diversity is celebrated and all people are welcomed, respected, and supported. Providers and staff are dedicated to social justice and inclusivity. We practice trauma-informed care and believe that healthy bodies come in all shapes and sizes.
We also strive to maintain strong and trusting relationships with other local providers, fostering an atmosphere of mutual community support. We never stop learning and growing and are committed to providing the best, evidenced based care possible.
Our compassionate team of providers offer: